ASTANA POLYESTER ROUND RUG, 2M DIAMETER - IN STOCK
Product Details
PRODUCT DETAILS:
Availaibility : Ready Stock. Stock available at the shop.
Fabric: 100% polyester
Pile Height: 0.8cm
Backing: Cotton & Latex
Shape: Round
Colors: Due to the difference of monitor colors, some rug colors may vary slightly. We try to represent all rug colors accurately.
Waranty: 1 Month
Durability: Moderate Traffic -These rugs hold up well under the wear and tear of moderate foot traffic in living rooms, sitting areas, and dining rooms. In these areas, there is less wear since people aren't coming and going frequently.

Rug Size Guide
What Size Of Rug Should I Get ?
Choosing the right size of rug for your room depends on your design objective. A rug can be a focal point or accent. It can unite, extend or separate a room. The design objective is up to you and how you want the room to function.
This article presents examples of different design aesthetics and how designers use area rugs of all different sizes. This is not a right or wrong article. We provide basic examples but build on them with unique, out of the box ideas. Design is not a one size fits all.
The size of rug depends on where it will be used in the house. Here is a basic rundown of how to measure a room to find the appropriate rug size. One key point to remember with rug sizes is that they are never exact and might be an inch or two smaller or bigger than what is described
Dining Room: Measure the perimeter of your dining room table and add 54" to the dimension. Ideally your rug is at least 2 feet away from walls and your rug is big enough for dining room chairs to fit on.
Living Room: The rug in your living room will sit neatly in the center of your main furniture such as couch, chairs and coffee table.
The rug shouldn't show out the back of your couch or chairs but will central in the living area. Measure the perimeter of your main furniture (not the entertainment center, which won't sit under the rug) and subtract 24 inches from the length. If you don't have a coffee table, take 24 inches of your width as well and you will have the ideal dimensions for a living room rug.
Bedroom Rugs: The best place for a rug in the bedroom is right under the bed. This way when you hop out of bed in the morning your feet don't immediately hit cold floor. Measure the perimeter of the bed and add 24 inches to each side that isn't up against a wall.
Runners: Runners are long and narrow rugs that are ideal for front entry ways and hallways. For an entry wayrunner, measure the width of your door and the length of the entry way. Subtract 12 inches from the length of your entry way and you will have dimension for you runner. For a hallway, measure the length and width of the hallway. Subtract 12 inches from the width and 24 inches from the length for the dimension of the rug.
Kid's Room Rugs: There are a couple different approaches to rugs in kid's rooms. The first is putting a rug under the bed. Another option is to put a rug in a corner which will set it off as the "play zone". Measure the area that you want to be the "play area," subtract 6 inches from the width and length so the rug isn't pushed right up against the wall and you have the perfect play area.

Absolutely, although not as typically as putting a rug on hardwood, there is nothing wrong with using a rug on carpet. Rugs can protect carpet, add layers of color and create a focal point for the room.
What is the common rug size in living room?
RECOMMENDED RUG SIZES BY ROOM SIZE: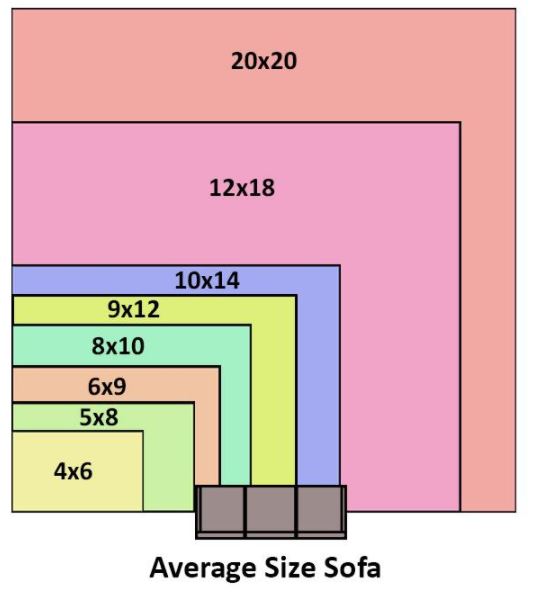 | | |
| --- | --- |
| Room Size | Recommended Rug Size |
| 4' x 6' to 5' x 7' | 4'6" x 6'6" |
| 6' x 9' to 7' x 10' | 5' x 8' |
| 9' x 11' to 10' x 12' | 6'x 9' or 8' x 10' |
| 10' x 13' to 11' x 14' | 8' x 10' or 9' x 12' |
| 11' x 16' to 12' x 17' | 10' x 15' |
We can clump all these sizes into one category as they have very similar setups. The standard setup for these sizes are shown in the diagram below. Remember, these are standard setups. For more ideas, scroll to the photo gallery below.
Notice, the standard setup has most, if not all furniture legs on the rug. The purpose of this setup is to define an area. It brings the surrounding furniture together in a cohesive design and separates the area from the rest of the room.
As people are downsizing, 5x8 and 6x9 rugs are becoming extremely popular. In many instances, they work interchangeably and give the designer a ton of unique options. In a standard setup, the furniture starts to separate itself from the rug, especially in 5x8.
6x9 and 5x8 rugs are rarely used in a standard dining setup but apartment living has completely changed the way we interact with our space. Our favorite designs push the table to a window or wall. This saves a ton of space and can maximize light at the dining table.
These sizes work great for unique areas in your home. You almost don't think a rug is worth it but trust me, a rug makes the space.
Rounds work great by mimicking the geometric pattern of round tables but they have many dynamic features in a traditional living room setup. Runners are generally used in hallways or skinny areas of the home.
Remember everything in this article is a recommendation and a source of inspiration. If you find something you like, use it. You don't need a designer to make a space that is special to you. Your space is special because it is your space.
Delivery
Estimated Time Arrival
If you choose for delivery plan, the ETA is about 7-10 days upon payment received.
*Please allow extra time for delivery during holiday periods. If there are any unexpected delays we will advise you as soon as we are aware and keep you updated with the status of your order
It is our aim to get your order to you as quickly as we can. We are generally able to deliver the majority of our orders within seven (7) working days. Inevitably, some rugs take longer than others. We therefore advise that you should always check the 'estimated delivery' section on your selected product page prior to making the purchase. We supply rugs in Malaysia to our customers at affordable prices and seek to deliver your orders in a fast and convenient manner; only using couriers with a proven track record for speed, customer service and reliability.

This stock also available for self pick up at our shop. Click here

Rates
We offer standard delivery charge according to the weight of the products to our Malaysian customers. "Standard Delivery" means that your rug should arrive during working hours (9am - 5pm) on a working day (Monday - Saturday) during the estimated delivery window. Once your order has been collected by the courier, you will receive an email or sms from us confirming this and providing you with the tracking information.
Delivery instructions
Should you wish to leave any specific delivery instructions for the courier, you will be able to do so by entering them in the "Comments box" during checkout process.
Missed Deliveries
As noted above, we will inform you of your order's delivery date as soon as your item(s) is/are collected by the courier and provide you with tracking information. If delivery is attempted by the courier while no one is present at the property, the courier will leave a card through the door with a telephone number for the purpose of re-arranging delivery. You will be able to call that number and re-arrange delivery to an alternative standard delivery date at no extra cost.
Our obligations
We will deliver your item(s) to you in the condition stated by us on this website i.e. new unless otherwise stated.
We will dispatch your item(s) to you in a timely fashion.
Please be aware that we cannot be held responsible for any errors caused by the courier. Even though we do use a reliable courier service, some delivery issues may occur that are outside our control.
In case of delivery failure and the failure of the courier to provide an adequate explanation to you, we will intervene on your behalf and rearrange delivery.
Your obligations
Upon receipt of the item(s), it is your responsibility to check the condition of the package and packaging. If the item looks damaged or dirty from the outside, please do not accept it as we are unable to pursue claims against the courier if the item(s) is/are signed for. If you did not or could not inspect your item(s) when delivered, please make sure you sign for the item(s) and write a note next to your signature as 'not inspected'.
Should you need to make any changes to your delivery details, you will need to inform us on hello@imhomestylist.com stating your order number as the subject of the email. An extra charge may be applicable in case the package has already been collected by the courier.
On the day of delivery, it will be your responsibility to track the item if you wish either via the courier's website or by phone.
In case of delivery failure and the failure of the courier to provide an adequate explanation, you must inform us immediately on stating your order number as the subject of the email.

Note: You will not be able to change the delivery details with the courier without prior written consent from us. If you would like to change the delivery address for example, you will need to write to us on hello@Imhomestylist.com stating your order number as the subject of the email and requesting the delivery to be redirected to a different address. We will then get in contact with the courier and redirect your package, but please note that there will be an extra fee payable by you for this service, which will be the fee chargeable by the courier.
Payment Method
1) DIRECT ONLINE TRANSFER / BANK IN
Account Details:
Name: IMHOMESTYLIST SDN BHD
Bank: Maybank Berhad
Account Number: 562021630136
2)PAYPAL
PayPal is a fast, easy and safe way to make payments online and on your mobile phone.
Payment in full must be received before orders are dispatched.
3)SENANGPAY
Please click the link to purchase via SenangPay
https://app.senangpay.my/payment/434151487875694
4)MASTERCARD / VISA
We accept both manual wire transfer and credit card payments for all our products.
We have partnered with award winning payment gateway merchant in paypal , a leading payment gateway, to accept credit cards payment safely and securely for our customers.
The company adheres to strict industry standards for payment processing, including:
128-bit Secure Sockets Layer (SSL) technology for secure Internet Protocol (IP) transactions.

Industry leading encryption hardware and software methods and security protocols to protect customer information.

Compliance with the Payment Card Industry Data Security Standard (PCI DSS).
Please use your Order ID number as the payment reference and email the receipt of payment to hello@imhomestylist.com
Your order won't be shipped until the funds have cleared in our account.
Your order will be cancelled if no payments are received within 48 hours.
Care Instruction
How to take care of Wool Rug
1. Placing the rug in a light-traffic area doesn't really stop it from shedding, although it will receive less wear and tear, so protecting the fibers while using it helps it shed normally.
2.Ensure you vacuum your wool rug every day for the first 10 days after purchase. After the first 10 days vacuum your rug twice a week. When vacuuming your wool rug ensure that there is not too much suction on the wool, you may need to turn the suction power down or use a different head attachment to achieve the right level of suction. Ensure you wipe or remove shoes before walking on the rug, any friction from bricks/sand/grit on the bottom of your shoes will break the fabric away from the base and cause more shedding. Equally try not to cause friction in any other way, don't drag furniture back and forth across it, for example.
Rake, brush or groom your rug weekly, or more often if needed. Use a special rake available at specialty carpet outlets. A clean broom or a pet brush may also work, but avoid any product that is harsh on the fibers, such as wire-bristled brushes.
3.Trim tufts of wool that emerge above the carpet surface with a sharp pair of scissors. Wool carpets naturally experience this effect -- don't panic -- but cutting them even with the surrounding carpet will discourage the fuzzy appearance they cause. Don't pull the fibers as you work to avoid more shedding. Wipe your hand over the surface to collect loose fibers and balls.
4.Vacuum your wool rug at least once or twice a week, especially in the first few months (there will be lot of remaining wool due to factory manufacturing). Use a vacuum with gentle suction and work with the pile, not against it. Avoid heavy-duty vacuums or those with beater bars or brush bars, which damage the wool construction.
5.Rotate your carpet every few months to ensure even wear, which prevents needless shedding.
Return & Refund Policy
If you are not entirely satisfied with your purchase, we're here to help.

1. Return and refund only can be obtained if your item must be unused and must bein the original packagin. You have 48 hours from the date you received it tonotify us about the damaged item.
2. Return and refund only can be obtained if the product is with manufacturer defect (s).
3.Return and refund will not be applicable to any circumstances below:
Shedding is a natural characteristic of a deep pile rug and isnot deemed to be a fault. This is common on Wool rugs and should be taken into consideration when choosing a product suitable rug for your home.

Product specification error made by buyer e.g. size, color,design, pattern etc.

Product that has been used, stained or defected, damaged caused by the buyers will not be accepted for return and refund.

Custom made products will be non-returnable and cannot be cancelled once the order has been placed on our website. Please ensure that the measurements are correct and note the estimated delivery time shown on the siteto allow for production.

Whilst every effort is made to accurately reproduce images of our products, different monitor settings can have an effect on the appearanceof colors. The digital images we display have the most accurate color possible. However, due to differences in computer monitors, we cannot be responsible for variations in color between the actual product and your screen.So we do not do refund on the basis of color difference as seen on your computer screen.
---